Learn to help and
strengthen yourself.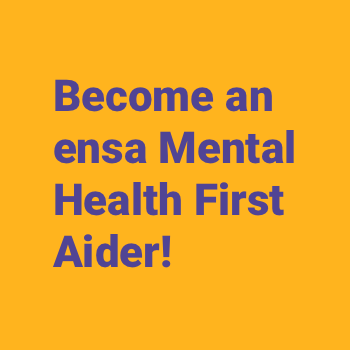 Every second person will suffer from a mental health issue at some point in their life. 9 out of 10 people know someone who has a psychological problem and would like to help.
But how?
Become an ensa Mental Health First Aider!
Doing nothing is wrong!
Mental illnesses and crises are part of our society.

Almost all Swiss people know at least one person who is affected by them.

It is therefore all the more important that we know how to respond and help them.
React early
It is important to recognise mental health issues in relatives, friends or work colleagues early, to approach people and offer help.

Because the longer you wait, the worse the problems can get. Doing nothing is wrong!

At the same time, knowing more about mental health strengthens your own.
You can help
Basic knowledge about mental illnesses is taught over several sessions and the five steps of first aid are practised.

Either on- site or online, you will learn to make specific recommendations for action and to conduct supportive conversations.

ensa first aid courses enable you to help others, because doing nothing is wrong!